Schedule Meetings Right from Slack!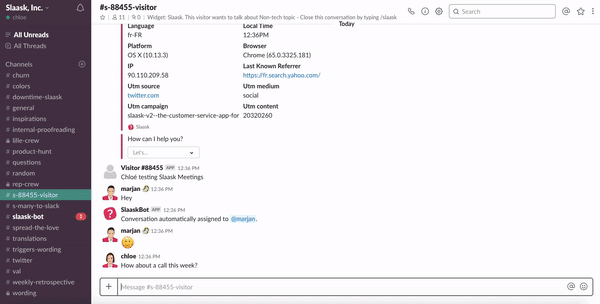 With Slaask, you can live chat with your leads, customers and providers right from Slack! And not only this! Your leads and customers can now book a Meeting with your team in just two clicks, directly from your Slaask Chatbox available on your site(s) or mobile apps.
Moreover, your team can synchronize Google Calendar with Slaask and can automatically get new Meetings added to Google Calendar without conflicting your workflow.
Fewer emails for everybody, which means you and your invitees can get more done. No more struggling with endless back-and-forth emails, thanks to this amazing feature!
Looking to configure Slaask Meetings? Check out our documentation!
Read on for the additional features built into Slaask Meetings:
Customizable Meeting Types

You can suggest different types of Meetings to your interlocutors, such as calls, product demos, video conferences, face to face meetings, job interviews, etc. These types are totally customizable to match the way your organization is operating.
100% Slack Integrated

Your Contacts can receive a message from your team, directly from the Chatbox, showing different time slots available for a specific Meeting type.
Dedicated Page on Your Website

Your leads and customers can access a page that gathers all your Meeting types and select their desired time slot. You can directly send the link of your Slaask Meetings page via email or embed it on your website.
Time Zone Intelligent

Seamless time zone detection for your invitees so that everyone's on the same page. You just have to enter your own time zone and the time of the Meeting will adapt automatically to the location of your Contact! Yes, it's magic!
Two-way Google Calendar Integration

Not only does Slaask Meetings display your Meetings on your own calendar, it also takes into account all the external events scheduled in your synchronized calendar(s). Let Slaask Meetings know your availability preferences, and it will do the work for you.
Email Notifications

Everyone taking part in the Meeting will be notified by email, at the moment the Meeting is scheduled, as well as one hour before the Meeting.
Flexible Timetable

You can enable or disable any Meeting type, for example, when you are off work for some days. That way, you won't let anyone disrupt your Caribbean vacation!
No Last-minute Meeting

By default, a buffer time is automatically added between Meetings. Thus, Slaask Meetings prevents last-minute Meetings from happening.
Works on All Devices

Phone, tablet or desktop—you and your invitees can use Slaask Meetings anywhere, from any device thanks to its responsive interface.
… and there are still many more improvements to come! 🌟
Looking to configure Slaask Meetings? Check out our documentation!
Hope you will enjoy this amazing feature which is making Slaask the best customer service app for Slack out there! Feel free to share your feedback about it by chatting with us ❤️
---
About the author