How To Use Online Events to Improve Customer Loyalty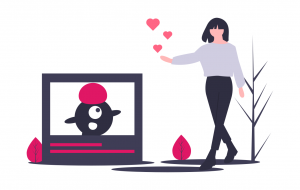 Building a strong and profitable business requires more than just having customers or offering a one-time sale
. You need to find a way to ensure that your customers keep coming back. In this post, you'll learn how to use online events for your loyalty programs.
Loyalty programs are a great way to attract and
retain
customers. This builds customers' loyalty and trust, as well as make them feel very special. 
The 2019 Bond Loyalty Report
reveals that 73% of customers are more likely to recommend brands with good loyalty programs
. In this time of crisis, an online event could be
just
what you need to keep your customers loyal during this period. Use online events to remind customers why they chose you and why they should keep choosing you. Besides, it's fun, convenient and cost-effective.
Decide What Kind of Event
Great planning matters a lot. You can decide on live streaming, pre-recorded content, or a hybrid.
Live streaming allows for instant engagement. You can try a live Q&A portion and allow your audience to

participate

in polls and surveys.
Pre-recorded content is great for long sessions.

Participants can still engage with other attendees and presenters through public and private chat

.
If you decide on a hybrid, you can begin with a live-streamed welcome address before serving your audience pre-recorded sessions

. Then go on to create an 'engagement hour' where customers can interact and ask questions.
Go Overboard With Content
Start with your blog and social media posts. Ensure they are relevant,
personalized
, and valuable. The goal is to drive them to do business with you while amassing points for themselves. Your content should be interesting, engaging, and value-packed. If you are not sure what to offer,
use surveys
to gather ideas. Target their exact needs and offer it to them in such a way that it looks and worth the points they are counting.
Make Every Process Convenient
As long as you make your process easy, your customers will keep coming back. Ensure your sales process is simple and fast. Ensure a smooth and accessible way of talking to your customer support team. Give your customers multiple payment options and allow for flexibility if possible. 
If the question is on social media, answer them immediately, don't force them to pass through your sales process
. Also, remember that not all prospects want a call, some need a simple response to their comment. At every touchpoint,
make your customers feel special
.
Be Engaging
There's no better way to engage with your customers than Slaask. Happy and satisfied customers mean more money in the bank for you. Get engaging with your messages. Make it fun and interactive. Slaask's live chat feature allows for smooth customer communication and feedback. Your online event isn't complete without it. In the words of Brand Loyalty Expert, Sean Claessen —
"What drives businesses are the bonds you build with their customers, and the experiences are what create those bonds

."
Create that bond today.
---
About the author